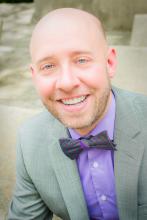 Welcome to the Winter Issue of Developments!  If you are like me, you may be questioning how, exactly, Fall semester came to such a rapid conclusion.  Whether you find this semester has been fruitful, challenging, or somewhere along a continuum, please accept the well-wishes for a safe and enjoyable holiday season and break from everyone at Developments.
I was blessed to make my first official visit to the ACPA – College Student Educators International Office in November during the Annual Meeting for the Association for the Study of Higher Education (ASHE).  I want to thank Dr. Cindi Love and the entire team at the International Office for welcoming us to Washington D.C. for such a lovely reception.  If you are ever in Washington D.C., please make a point to visit One Dupont Circle and thank our hard working staff for their dedication and service to our Association.
Before you part campus for your long winters nap, I hope you will take time to learn from the many articles in this issue of Developments.  The Standing Committee for Lesbian, Gay, Bisexual, and Transgender Awareness begins a new series looking back at the influence and role of ACPA – College Student Educators International in the LGBTA rights movement over the past 30 years.  In addition to the first article in this series by Gretchen Metzelaars, Jonathan Ross from Lyndon State College offers us a Perspectives piece on supporting the GLBTQIA community as a Christian.
We once again have an outstanding group of feature columns.  In Legal Issues, Jeffrey C. Sun examines controversial commencement speakers, and the legal rights of students, faculty, and staff to protest such speakers on campus.  Tadd Kruse discusses the benefits of increasing international student diversity on campuses in the United States in our Global Affairs column.  Marisa Vernon challenges curriculum in her column on Student Development in the Two-Year College, questioning whether general education requirements for technical degrees enhance or detract from student success.  Finally, Jonathan O'Brien shares his model for developing ethical professional practice and leadership.  This column couples well with our Graduate Students & New Professional Piece on the Ethic of Care in student affairs – reflections from the John C. Dalton Institute.
I'd like to close by welcoming new members of our editorial board team who began their terms in October.  Joining our already outstanding Reviewer team is Stephanie Nguyen (Indiana University), Lisa Hatfield (Portland State University), and Tricia Shalka (The Ohio State University).  Joining our copy editing team is Michelle Ciesielski (Arkansas State University Beebe) and Joshua J. Houston.
Look for our Spring Issue of Developments to appear in your inbox one week prior to our annual meeting in Tampa, Florida.  Until then, enjoy, learn, and reflect on the many outstanding articles in this Winter Issue.  Happy New Year!